Kyrie Irving has a special connection to number 11. It begins with his dad, Drederick Irving, who wore #11 during his basketball career; Kyrie wore it in high school and does now with Brooklyn. The connection extends to a metaphor for balance and harmony (1+1) that resonates with Kyrie, and cascades from there. "K" is the eleventh letter of the alphabet; "Kyrie Irving" is 11 letters; Irving played 11 games at Duke University; he was drafted round 1, pick 1 in the 2011 NBA draft and he surpassed the 11,000 point mark on March 11.
With a nod to Irving's globetrotting curiosity and 11 cities with special meaning to him, the Nike Kyrie 6 will debut with a Preheat collection of 11 shoes inspired by 11 cities, including Beijing, Berlin, Guangzhou, Houston, Los Angeles, Manila, Miami, New York City, Shanghai, Taipei and Tokyo. Also added is the "Heal To The World" iteration that will be widely available.
Nike Kyrie 6 Preheat Collection Release Date
Look for the entire Nike Kyrie 6 "Preheat" collection to release on November 11th exclusively in each respective city. The retail price tag is set at $130 USD each.
Nike Kyrie 6 Pre-Heat "NYC"
Style Code: CN9839-401
Release Date: November 11, 2019
Price: $130
Nike Kyrie 6 Pre-Heat "Miami"
Style Code: CN9839-404
Release Date: November 11, 2019
Price: $130
Nike Kyrie 6 Pre-Heat "Houston"
Style Code: CN9839-100
Release Date: November 11, 2019
Price: $130
Nike Kyrie 6 Pre-Heat "LA"
Style Code: CN9839-101
Release Date: November 11, 2019
Price: $130
Nike Kyrie 6 Pre-Heat "Shanghai"
Style Code: CQ7634-303
Release Date: November 11, 2019
Price: $130
Nike Kyrie 6 Pre-Heat "Beijing"
Style Code: CQ7634-701
Release Date: November 11, 2019
Price: $130
Nike Kyrie 6 Pre-Heat "Guangzhou"
Style Code: CQ7634-409
Release Date: November 11, 2019
Price: $130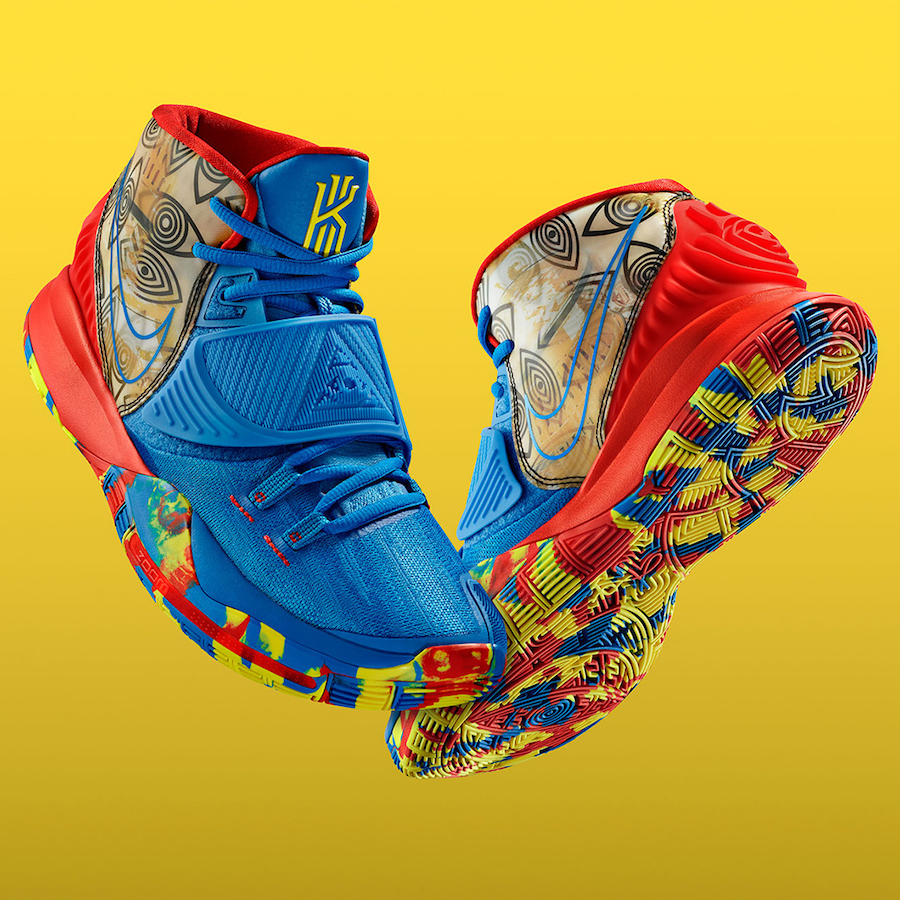 Nike Kyrie 6 Pre-Heat "Taipei"
Style Code: CQ7634-401
Release Date: November 11, 2019
Price: $130
Nike Kyrie 6 Pre-Heat "Tokyo"
Style Code: CQ7634-601
Release Date: November 11, 2019
Price: $130
Nike Kyrie 6 Pre-Heat "Manila"
Style Code: CQ7634-801
Release Date: November 11, 2019
Price: $130
Nike Kyrie 6 Pre-Heat "Berlin"
Style Code: CN9839-600
Release Date: November 11, 2019
Price: $130
Nike Kyrie 6 Pre-Heat "Heal The World"
Color: Midnight Navy/Black-Marine-Noir
Style Code CN9839-403
Release Date: November 11, 2019
Price: $130