Jordan Brand has officially unveiled their collaboration with Levi's, which includes the the Air Jordan 4 and Levi Strauss & Co. denim Trucker Jacket.
Authentic denim material brings the Trucker Jacket, which celebrated its 50th Anniversary in 2017, to life on the Air Jordan 4 with a standard wash prominent on the upper and reverse denim material on the liner and insole. The instantly recognizable Levi's "Two Horses" paper patch has been remixed to include the Jumpman logo and is featured on the shoe's tongue and hangtag. Finishing touches include Gum details on the outsole, Gold stitching, Indigo-color laces and the standard Levi's Red Tab.
The Jordan Reversible Trucker Jacket brings together classic Levi's craftsmanship, Flight Suit-inspired wings details and standard Levi's and Jordan branding throughout. Featuring worn denim, red Flight Suit material is stitched into the underarm panels while the back features a lightly distressed Flight logo. When reversed, you get a Black flight suit with a denim accented collar and a Jumpman Flight logo on the back. The jacket is finalized with co-branded dark-copper shank buttons and the classic paper patch on the back hem and attached tag.
Levi's x Air Jordan 4 Release Date
Look for the Levi's x Air Jordan 4 to release on January 17th with a matching Jordan Reversible Trucker Jacket at select retailers listed below. The retail price tag is set at $225 USD and $180 USD for the jacket.
Levi's x Air Jordan 4
Color: Denim/Denim-Sail-Game Red
Style Code: AO2571-401
Release Date: January 17, 2018
Price: $225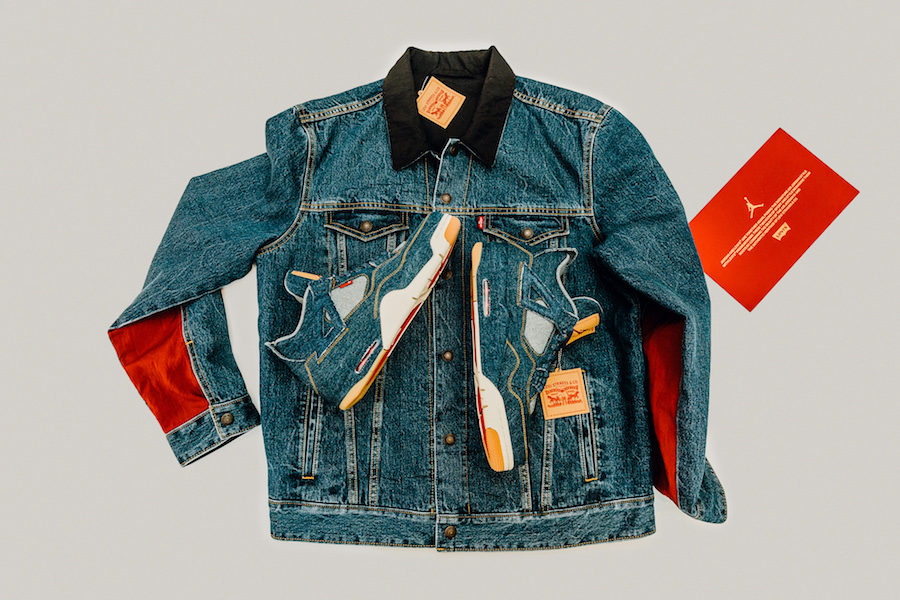 Both the Air Jordan 4 and Trucker Jacket release at:
BOTTEGA BACK DOOR- Bologna
CONCEPTS- Boston and New York City
DOE- Shanghai
END CLOTHING- Newcastle
INVINCIBLE- Taiwan
JORDAN BASTILLE- Paris
KICKZ- Berlin
KINETICS (TOKYO 23)- Shibuya-ku, Tokyo
LEVI'S STORE HARAJUKU- Tokyo
LEVI'S- San Francisco (Market St.) and New York City Soho
LEVI'S BERLIN KURFUERSTENDAMM- Berlin
LEVI'S LONDON REGENT STREET 174- London
LEVI'S OSAKA FLAGSHIP- Osaka
LEVI'S PARIS CHAMPS ELYSEES- Paris
LEVI'S SH Nanjing WEST RD- Shanghai
LIVESTOCK- Toronto
OPIUM- Paris
OQUIM- Amsterdam
SHINZO- Paris
SHOE GALLERY- Miami
SI VAS DESCALZO- Barcelona
SNEAKRS N STUFF- London
SOLE FLY- Miami
SPORTS LAB- Osaka
SPORTS LAB- Shinjuku, Tokyo
UBIQ- Philadelphia
UNDEFEATED- Los Angeles
The following retailers will carry only the Air Jordan 4:
8 WELLINGTON- Hong Kong
21 Lab- New York City
32 SO STATE ST- Chicago
290 SQM- Turkey
A MA MANIERE- Atlanta
BODEGA- Boston
CAPSULE- Toronto
CONCEPTS INTERNATIONAL – Dubai
CRÈME- Norfolk (VA)
DEAL- Beijing
FEATURE- Las Vegas
FOOT PATROL- London
JORDAN L1 HONGXING- Chengdu, Hongxing
JORDAN 16 SONGGAO- Taipei
JORDAN 139 NAN DONG- Shanghai
JORDAN BEIJING THE PLACE- Beijing
JORDAN GUANGZHOU 218 TIANHE- Guangzhou
JORDAN HONGDAE – Seoul
JORDAN NANJING- Tinajing
JORDAN TAIPEI XIMENTING- Taipei
JORDAN TIANJIN – Tianjing
KITH- New York City (SoHo)
LMTD EDITIONS- Barcelona
LUST- MEXICO CITY
ONENESS- Lexington
OVERKILL- Berlin
PATTA- Amsterdam
POLITICS- Lafayette (LA)
RSVP GALLERY- Chicago
SI VAS DESCALZO- Barcelona
SOCIAL STATUS- Charlotte, Houston, Pittsburgh
ST ALFREDS- Chicago
SUPPLY- SYDNEY
THE DARKSIDE INITIATIVE- San Francisco
TITAN- Fort, Manila
TITOLO- Zurich
TROPHY ROOM- Disney Springs
WISH- Atlanta
WZK- Shanghai
XH55- Guangzhou
XHIBITION- Cleveland
YAXIN- Beijing